Taking controlSpace
Many beginners, because they associate being close to uke with being able to throw successfully, because in randori they get stiff armed and held out and are left unable to throw. Translate this into moving uchikomi/nagekomi and so always move very close to uke, this is disastrous for practicing.
There must be at least room for your body turned lengthways between you and uke.
Tori indicated in red and uke in blue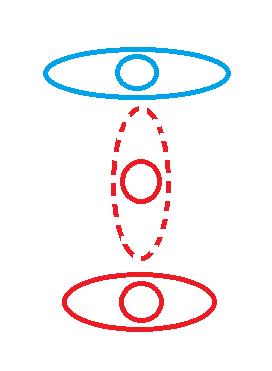 So when you commence moving uchikomi/nagekomi extend your arms fully and use that as a guide for how far away your body should be. Being too close will totally kill your ability to turn in correctly and wreck your practice.
So once you have taken control over the movement and achieved correct spacing its time for the actual movement pattern.
Moving when retreating
Moving when advancing