With the private ownership of handguns almost impossible in Japan, whackjobs who want to go down and take a bunch of innocent people with them usually resort to swords and knives. In the wake of the tragic Osaka School Massacre of 2001, Japanese school teachers consulted with the police to answer the question: if a knife-wielding maniac gets past the school gates, how can we hope to control them?
The police answer was to revive an Edo-era defensive/restraint weapon called a sasumata.
The original sasumata was designed to restrain drunken samurai warriors and was equipped with spikes to stop the samurai grabbing the shaft of the weapon:
The modern version is typically made out of aluminum, lacks spikes, and comes in a variety of kid-friendly colors:
These are installed in many Japanese school classrooms and corridors, and once a year the teachers do a "Frightening Man Drill" in which they practice both emergency evacuation and practical techniques with the sasumata: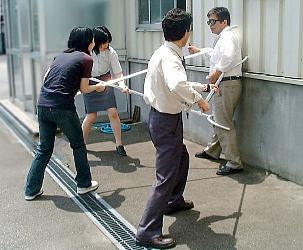 Some sasumata come with special features such as recurved hooks to aid in tripping the maniac, or spring-powered prongs for a more secure grip:
Comments?