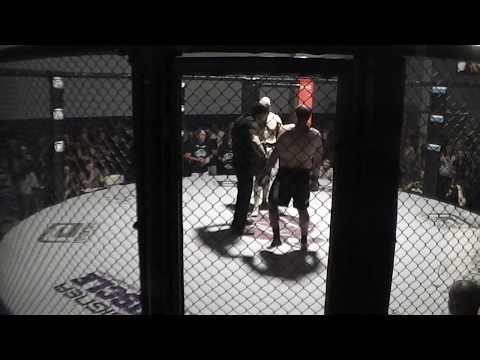 I have another angle of the fight as well, as I am somewhat of a celebrity.
Only recently started using a PC again, which meant that I could get access to a whole heap of shit on hard drives to upload to my YouTube account, hence the half decade since this was filmed.
I'm better now than I was then in regards to jits and wrestling, but only slightly.
This fight proved to me that I suck at striking and grappling. Even though I won.
The guy I fought, Dale, went on to win a number of fights. He had also had several boxing and kickboxing fights under his belt.
We fought at 84kg, but I weighed in at 80.4kg, while he weighed in at 84.4kg and had likely cut as well. There wasn't much info provided to me before the fight about him, so it was just like, "get in there and git her dun".
My boxing coach only found out who I was fighting on the night and came up to me all non-chalant and said, "all good, mate, just do what we said and get in range to take him down", then after the fight was like, "yeah, I didn't want to say anything beforehand, but I trained with Dale at other gyms and he gives me a run for my money."
I'd prepped for A Class rules, was ready to go A-class, when he requested C-class on the night. Essentially this meant that the "take down, mount, punch face until he gives back" strategy was unavailable. You can actually see me on several occasions go to punch him, then hold back, and in the third round I actually did and the ref scolded me for it.
It's cringey how jittery I am.
Anyway, enjoy.