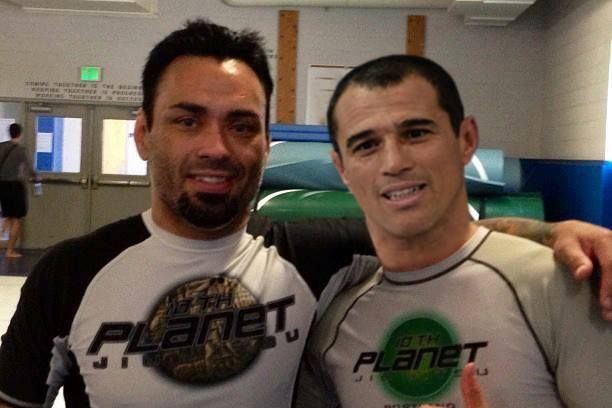 Royler Gracie now under 10th planet Jiu Jitsu
Following his devastating non-defeat in the match with Eddie Bravo at Metamoris 3, Royler Gracie announced late Monday evening that he is dissolving Gracie Humaita.
"All Gracie Humaita gyms are now 10th planet moons. During our match I realized that 10th planet Jiu Jitsu is truly the next evolution of Jiu Jitsu." said Royler, through his press agent, Rouette Zhedogsoutte.
When Bullshido asked about his training coming into the fight, Royler's camp responded: "he used the techniques that have helped the Gracie family win fights ever since Royce's victory over Harold Howard in UFC 3: the Knee Slice Pass and Hype. The 10th planet lockdown stopped Royler's Knee Slice, and the video replay prevented his fans from saying it was a fluke. As the you tubes are here to stay, Royler has no choice but to start training in the 10th planet system."
Publicity image from 10th Planet and Royler Gracie
When reached for comment, Eddie Bravo responded by saying "We had a long, heartfelt discussion while I held him in my Vaporizer submission, you know, on family and plans and stuff. Eventually we both decided that he would merge Gracie Humaita under 10th Planet with Royler holding the rank of 10th Planet Brown Belt. I don't give 10th planet Black Belts to people that don't understand by Rubber Guard System, but I am confident in a year or two he will."
When asked about whether Gracie Humaita would still practice with the Gi, Royler stated "the Gi is a Japanese Uniform, not a Brazilian One. We are planning big things to change the part of the sport of Brazilian Jiu-jitsu where people wear clothing, to better reflect the traditional Brazilian clothing, rather than the Japanese."
Royler also shared some comments directly with us, regarding the now infamous argument between Eddie Bravo and his brother UFC 1-4 champion Royce Gracie backstage at Metamoris. "I think my brother Royce is just upset that its not the 90's anymore and that nobody listens to Toad the Wet Sprocket either". When asked whether Eddie Bravo or himself would fight Royce at Metamoris 4, Royler responded: "I don't think so, Royce is usually too busy giving out Blue Belts at seminars to fight anymore."