Video: Intended victim takes shotgun from armed robber in New Orleans
The NOPD is asking for the public's help in finding an armed robber who found himself on the run after the victim turned the tables.
Investigators say the whole thing was captured on surveillance video. (Scroll down to view the video.)
Police say the would-be robber walked up to the wold-be victim Saturday morning just after 5:00 a.m. in the 1900 block of Burgundy Street and demanded money. The video shows the robber pointing a shotgun at the victim's face at close range.
The video shows the victim then yanking the shotgun away from the robber and giving chase.
According to police, the victim was approached moments later by two black males in a black four door sedan. The victim told police that the driver of the car said, "give me my gun back and I'll give you your phone that you dropped."
An NOPD spokesman says the intended victim declined to return the shotgun back to the robber, but instead used the weapon to strike and knock out the rear windshied of the vehicle. Police say the two suspects fled on Frenchmen to St. Claude and then to parts unknown.
The gunman is described as an African American male, approximately 16-20 years of age, 6' tall with a thin build, wearing a black hat and a black t-shirt. Police say the vehicle is possibly a Honda Accord.
Anyone with information about this attempted robbery is asked to call Crimestoppers at 504-822-1111.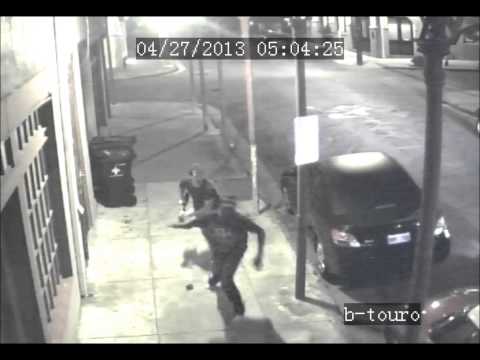 Link
You are better off giving your goods in that scenario aren't ya?