So what would a black belt test look like if we took a traditional martial art and let Bullshido set the criteria? It might look something like this.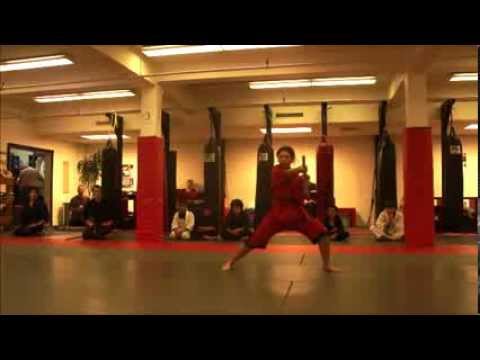 On Nov. 23rd 2013 assembled a panel of 13 blackbelts, 7 of which are actual members of Bullshido. The youngest was 12 years old and had been training for over 8 years. The other adults averaged almost 8 years between them. Before they were allowed to test they had to pass a lot of preliminary exams including:
Grappling Qualification (equivalent to a blue belt in BJJ for adults)
Weapon's proficiency (see video)
Physical fitness test (work out for an hour before test time; again see video)
Kicking proficiency
Striking proficiency
Theoretical Self Defense Concepts
Practical Self Defense
2 rounds of San Da rules striking (With fresh opponents)
1 round of MMA sparring (Junior candidate did Pankration rules)
1 round bare knuckle
1 round multiple attacker
Power and focus exam: 10 boards with hand and 10 boards with foot in less than 1 minute each.
Power break (they chose brick)
There are schools out there that believe everybody should be able to get a black belt. There are some schools that have their candidates show up, do a few forms, break a board and qualify children with less than 2 years experience.
I can't speak for the entire forum but I believe if Bullshido could give some criteria to what a "Black Belt" test might look like I believe this might be it.