After reading posts about people who want to design their own martial arts, I decided to take a stab at doing it myself. I mean, they sound so cool, looking to blend the best of all martial arts to make an uber martial art that will beat the snot out of everyone but will be too deadly to spar and thus will never make it to a professional fight. Ahhh, to be 14 again and living in a Gygaxian fantasy world trying to take my paladin to level 17...
I wanna piece of that.
I call this one "askidoo" or properly pronounced "a ski dew".
It will be the only martial art truly Canadian. In it I plan to encorporate dirty fighting lessons learned from bar and street fights, hockey games, Bob & Doug McKenzie and of course my personal experiences drinking beer.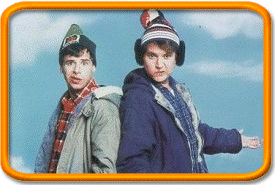 First lesson in the specialized dirty tactics will be the sweater grab and pull over the head. Then it's using the sweater to control and throw punches:
We'll also concentrate on no-sweater grabbling as well, but that in a specialized class for those that enroll in the inner circle.
Instead of belts, we'll rank by toques. The grandmaster gets a black toque with a gold smiley face:
Those that don't behave themselves have to sit in the corner and wear this toque:
As for weapons forms, it will concentrate of hockey sticks, snow shovels and beer bottle caps used as shuriken.
I'm thinking the school motto should be "Always come to class with a two-four and bus fare home".
Who wants in to help me devise this truly original and death dealing MA?
As just so this thread has more pics, I would also would like to nominate her as our mascot: