Centuries ago in the Streetazoic period of MMA, the rules of engagement were a tad bit different than what they are today. Gloves were optional, disqualifications were only a theory, and time limits were just something they made up as they went along. You could headbutt, you could stomp, and (As hard as it may be to believe) you could even have any sponsor you wanted! It was the Wild West all over again, a new martial frontier with boundaries that were limited only by your Streetmagination.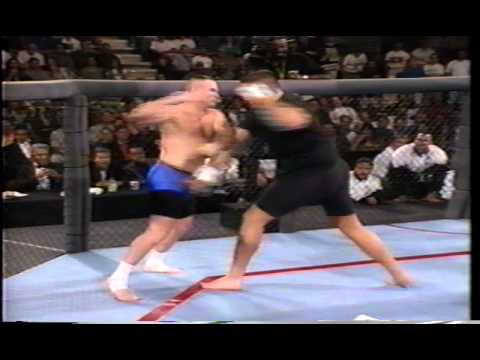 Naturally, with the rules of MMA in their fetal stage, clothing regulations were also borderline non-existent. They had one flimsy stipulation that forbade you to kick if you decided to wear shoes for traction (In some events, not others), but other than that they pretty much just let you come in with whatever the fuck you pleased so long as it didn't
shoot electricity
and wasn't made of chainmail. Now, you would think fighters entering this PPV deathmatch would keep things simple to leave themselves as comfortable and unrestricted as possible; maybe they'd wear a gi like they're used to, or something like boxing or Muay thai trunks (MMA specific trunks, of course, having not been invented yet). But no... As it turned out, fighters' fashion sensibilities were just as diverse and varied as the styles they practiced. And, as you'll see, their choice for in-ring attire were simply... AMAZING!
14. Randy Couture: Von Kaiser Stretch Pants
http://v.youku.com/v_show/id_XNzg3NTYxMTI=.html
Randy Couture's debut in the UFC marked the exact point in MMA history when strategy became a real thing. People exhibited gameplans before, but they typically only fell into three camps:
1. The Royce Gracie- "I'm a grappler. You're a striker. I'm just going to take you down."
2. The Tank Abbott- "I'm just going to walk forward and punch you."
3. The Fred Ettish- "I don't know what the fuck I'm doing. I'm just going to go in there and stumble around."
Besides perhaps Marco Ruas, nobody before Couture displayed a level of planning that could be compared with what's exhibited by modern athletes in the sport. When he defeated juggernaut brawler Vitor Belfort, at the time considered to have "no weaknesses," with PUNCHING, it revamped the way people thought about how striking could be utilized in MMA. Couture studied his opponents carefully, and made detailed plans of what he would do on fight day that covered everything from how he would approach his opponent, to how he would enter the cage... And even down to what he would wear.
When he was going up against Maurice Smith in his first title shot at UFC Japan, Couture knew he needed to be leery of leg kicks. Smith, a former world champion kickboxer, had previously utilized low roundhouses to reduce Mark Coleman and Tank Abbott to gelatinous piles of quivering pussy. Couture did the requisite preparation one would have to do when dealing with an opponent like that, working on his checks and learning to use Smith's kicks to help him set up his own takedowns, but he also felt he needed to go a step further. The visible damage Mo' had inflicted on Mark Coleman's thighs, Couture speculated, had helped sway the judges in Smith's favor during their fight. "The Natural" knew the same thing could potentially cost him a victory as well... Unless the judges couldn't see his legs!
Entering his first championship fight wearing bicycle pants was a calculated maneuver for Couture, like everything else he did. This particular decision, however, did not pan out like he had hoped for. The spandex apparently only aided Smith's leg grip and made it difficult for Couture to pass his guard, essentially reducing a match up between the two most technical fighters in the UFC at the time to a lay-fest (Without any participation from Delta Jackson, mind you). Smith didn't even throw that many leg kicks, anyway. Couture won, but this fight generally isn't considered a part of his "required watching" library for fans.
Despite the lackluster performance, Cockture did at least look pretty damn good in that spandex. As fellow wrestler
Dave Beneteau
demonstrated a few years before (And
Jose Canseco
would demonstrate years later) form-fitting long pants are sexy as Hell. Sure, the plain black variety isn't very spectacular when compared with some other entries on this list, but it warrants being here just for the contrast of seeing somebody like Couture (Who was still fighting well into the modern era of the sport) in something other than standard trunks.