So the votes are finally in and the decision has been made. I'd like to thank all of you who participated in the YMAS and Facebook threads that preceded this article. Your contributions greatly aided my decisions (Although I ignored most of your comments and just made my own list anyway).
I actually didn't expect my last post to be put up on the Bullshido Facebook page. I had simply written that with the intent to shoot the shit with my fellow Bullies, so the dudes who only follow our Facebook page were naturally confused about some of my choices. This time around, though, I'm going to elaborate more on each entry to help you guys get a better picture of why these styles suck. Keep in mind that these are only GENERALIZATIONS of each discipline. There are badasses in every art, although I think any legit tough guys who study these styles would still be better served training something real. Also take note that I'm NOT trying to insult anybody who practices these styles. All I'm trying to get across is that if you're a student of any of these art forms, that automatically means you're a pussy and that I can kick your ass.
5. ATA (Songahm) Taekwondo
Taekwondo (Also known as "Karate" according to most storefront signs) is the poster-child for the American McDojo. It's the reason many of us got our asses kicked in middle school after we tried intimidating the big, ornery bully by telling him we're a black belt. I received a lot of nominations for WTF Taekwondo, but in good conscience I can't put that particular style on this list. WTF has it's own thing going... Dudes in poor countries have a shot at getting in the Olympics and making their lives better (And all they have to do is throw a few high kicks and gloat after touching someone in the chest. It's practically charity).
ATA does not have that redeeming value (Nor does it have nearly as humorous of an acronym). My first personal encounter with an ATA disciple was years ago when I was fifteen and looking to harass some people at a McDojo after being inspired by my discovery of Bullshido that previous Summer (I am not a good person). I was invited into the dojang after the assistant instructor saw me staring at the teen class through the window facing the sidewalk and ended up in an awkward conversation about how the organization is structured and the experience of the teachers. When I asked how long the black belt assistant instructor had been training, he looked at me with a shining, proud smile and told me "A year and a half." I wasn't sure if he expected me to be in awe by how quickly he had earned his 1st Dan, or by the effort and dedication he apparently thought that length of time denoted. Either way, I was banned from the dojang that day after molesting some of the men who were coming into the adult Camo belt class (They all had tits, how was I supposed to react?).
To sum up what's wrong with the American Taekwondo Association's brand of martial arts: Basically the same things that are wrong with most every Kiddie Krotty school out there, only ATA schools tend to stay in business longer courtesy of effective marketing and instructor support. Essentially, the ATA has very successfully stabilized the shady business practice of selling expensive colored belts to children. And while Taekwondo can be a good activity to enable little Tommy to stave off childhood obesity and have a lot of fun (The dojang I visited had a pair of Hulk gloves in the spare equipment bin), fast-tracked rank upgrades can be extremely dangerous in regards to how he perceives his own martial talent. "Boosting confidence" is really only a positive thing if it's justified and earned through lengthy hard labor. If a child (Or adult) goes around thinking he's a badass because he knows how to impotently flick his foot in the air, there's a huge potential for him to put himself in a situation where
that's bound to blow up in his face
. While the gamut of kicks and punches taught in Taekwondo can be highly effective when trained with aliveness (Anthony Pettis), odds are an organization willing to give you a black belt based on the merit of whether or not your mother's check cleared is not going to instruct you properly.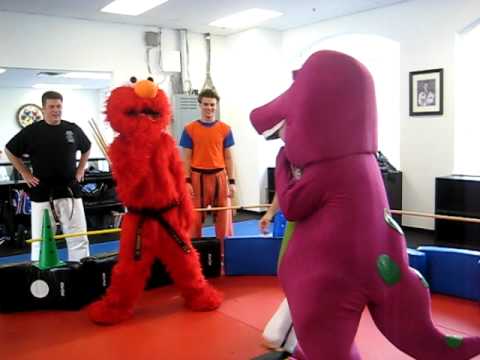 There are a lot of other amusing idiosyncrasies to the style as well, chief among them using "rebreakable" boards as a test of power. Yeah, instead of using real boards to break during belt promotions, they just have their students kicking color-coded jigsaw tiles. So basically they've taken what was already just a functionless gimmick, made it lame, and have started using it as a meter stick for student progress. I don't know about you, but when I used to train at a Tang Soo Do McDojo, breaking wooden planks and taking the pieces home to show to my friends was the only cool thing about being a karate geek. ATA doesn't even let you have THAT much.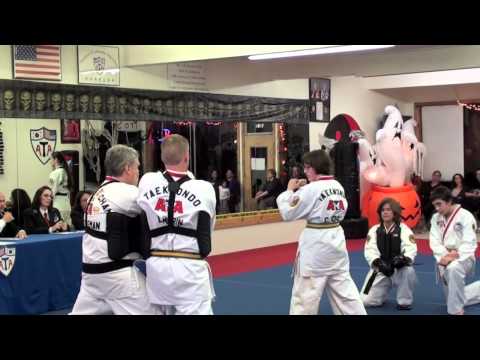 To conclude, a very good list of all the cons (And pros!) of the ATA can be found in this FAQ Omega posted in the traditional forum:
http://www.bullshido.net/forums/showthread.php?t=66591