Like a heavy bag critique, please feel free to tear my pretend logic apart. I posted this on a website in a WC thread, and wanted to see what Bullshido thinks. Yes I am aware of Caged Muay Thai.
Will a Wing Chun Fight Strategy work in MMA?
I think that is a better question, because the techniques are built around the strategy. The thing that makes it effective is training method, but you can get less than efficient technique, and poor strategy to work with the right training method.
So can we just assume a high quality training method when asking this question?
What is a Wing Chun Fight Strategy?
Punch and Clutch
1. Hit
2. Seek attachment with the first hit, preferably while immobilizing the opponants lead striking tools, and disrupting their balance.
3. stay attached, keep the immobilization, get to a dominant position that allows you to continue striking.
4. if the attachment is lost, wash rinse, repeat.
Sounds kinda like how a muay thai person with a monster clinch game would fight right?
Now consider this, in modern MMA, Muay thai and boxing are the two primary striking arts. Here is the problem, they have opposing mechanics. In Boxing torquing the hips is reserved for punches. When you try and teach a good Boxer Muay Thai for MMA, your asking him to save the power he would normaly use for his punches and use them for kicks instead, this is not making the most of the Boxers specialized tools.
Solution? Dutch Muay Thai or Savate, both use the legs to set up the hands, and rotate over more on punches. To set up boxing, kicks should have the effect of closing the gap, making use of forward momentum, saving the hip rotation for the punches (Think TKD kicks, Boxing Punches VS. Muay Thai kicks, Muay Thai Punches).
Both arts evolved with boxing gloves, which eliminates most trapping.
The dirty boxing we see now is mostly from a wrestling platform, hand fighting in wrestling is to set up throws or takedowns, so when I watch them dirty boxing, it looks like they miss numerours opportunities to hit, because their hand positions are best used to set up grappling, not striking. Hand fighting in Muay Thai is to set up Knees and throws.
Where does handfighting exist for the sake of hitting? I dont think there has been a rule set that has allowed that to evolve the way the other arts have. Not that chunners would do it anyways, i am just saying we cant expect to see it, in rules sets that discourage it.
The collar tie, the neck pull, the forearm shiver, are all used in the exact same way in Wing Chun.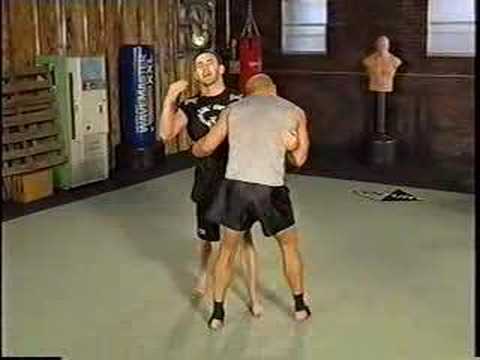 If there is anyone in AZ who wants to help me make some trapping gifs from sparring footage, hit me up.