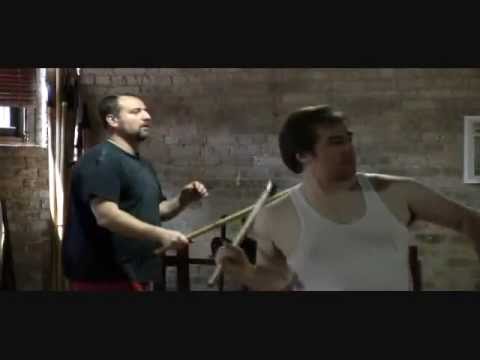 A "video memoir" of the recent Bartitsu School of Arms seminar/conference held at the Forteza Fitness and Martial Arts studio in Chicago.
The aim of the School of Arms is to continue the cross-training experiments (pre-WW1 jujitsu, catch wrestling, classical boxing and the Vigny method of stick fighting) that were left as a work-in-progress when the original London Bartitsu Club closed down in 1902.
The three-day event began with a field trip to the historic Hegeler Carus Mansion in LaSalle, IL and an extended tour of the mansion's gymnasium, which is believed to be the oldest surviving private gym in the US. Back in Chicago that evening, School of Arms participants joined the audience of the play "Susan Swayne and the Bewildered Bride", an action/comedy/drama set in the late Victorian era and featuring some Bartitsu-influenced fight scenes.
The video features excerpts from the two days of cross-training with instructors Allen Reed, Keith Jennings, Tony Wolf and Mark Donnelly as well as some informal sparring matches and highlights from the Antagonisticathlon (a Sherlock Holmes-themed martial arts obstacle course).