Just saw this video: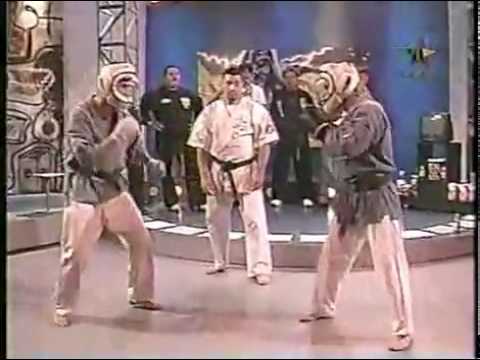 Quick translation
Host: How can mothers get their childs into this sport) that despite looking so violent still is a sport (asking with good intentions)
Instructor: You will see this improves the kid self-steem and balance between the spiritual and physical side of him. Also it will make him focus onto something and use all the energy of the iddle kid.
Instructor: Now the fight show ! I remind you that the national police regulates the martial arts in this country. As you can see this gear is made to protect the amateur.
Host: Only when they are experienced can they remove it?
Instructor: Exactly!
(Takedown)
Host: Whats that?? ._.
Instructor: Here we can see a throw with a submission in this case a lock on the ankle
Instructor: Is important that the referee can see a clean throw, a submission is ending the fight with a hold, joint lock or choke.
People must know that this requires a lot of work put on this system.
(Headbutt)
Instructor: Also uses the head. The head is protected by the headgear.
Instructor: Saldy with violence in the rise especially against women its convenient that they can count with a self-defense system, this art is (thousands of years old??)
With Daido juku we are mostly important trainning the women so they avoid being easy targets this gives them greater self-steem and security.
Hosts: Thank you all (instructors of Daido juku)!
So this is my rant know: Why all the shitty Point sparring karate is so popular and this is not? Why damm it all that shitty instructors teaching so bad and ripping off poor students with their excesive fees
WHY THIS IS NOT POPULAR WHY THERE IS NO DAIDO JUKU IN MY COUNTRY BUT LOADS AND LOADS OF SHITTY POINT SPARRING KROTTY??
Also Kyokushin is awesome but we could use some training in throws and headpunching.