I chose the thread title mainly because I figured it would grab attention and possibly piss off some of the live training fanatics here.
Compliant drills have their place and although this site advocates live training I fear some newbs/visitors (like myself when I first lurked) might get the impression that no one here does compliant drills. Some reputable schools I've known of only let you do live sparring after an initial introductory period of compliant drills to ensure the newb doesn't spaz out and hurt himself or partner. I know in my BJJ class we do compliant drills against a partner offering minimal to increasing levels of resistance for at least the same amount of time we do "live" rolling. The same goes for my FMA training and other arts i've practiced.
This thread is to discuss the value of compliant drills and any specific drills you might use to apply to your live sparring. Also, some compliant drills offer a degree of liveness (if that's a word) in that random attacks may be defended within a certain agreed upon ruleset that strictly separates the drill from true sparring. I'm interested in discussing the fine line between compliant drills and semi sparring drills. When you spar what are the agreed upon rules?
Here's one example from the FMA style I train Balintawak. This is a drill known as "counter-to-counter" or cuentada. One set attacker selects random attacks from a group of specified attacks, the defender dosen't know what attack will come or in what order, occasionaly the feeder throws in his own personal styles but generally the attacks have been seen before by the reciever. All strikes are pulled and if everything is done properly generally no one gets more than an occasional bump or bruise.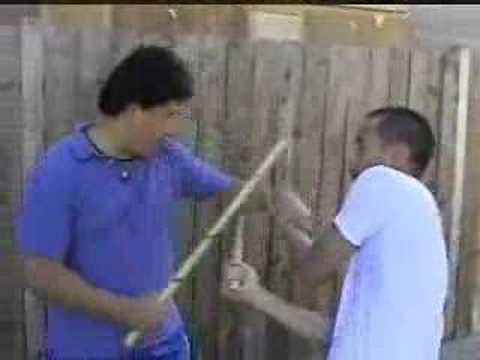 I think the intended purpose of the drill is to build a solid defense for the receiver and for the feeder to learn how to build combinations. The drawback to this method is some groups don't expand beyond this drill into real padded sparring. As a result some groups are very advanced at the drill but only within the preset range established within the drill.
Discuss your experience with compliant training and list it's benefits!
I'm purposely not going into the fact that live training is obviously necessary, anyone who's lurked here more than a minute or two knows that.