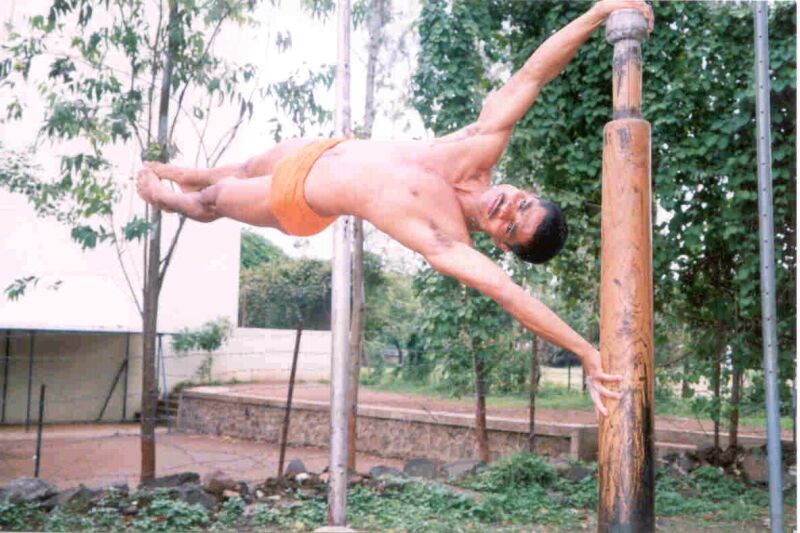 Mr. Santosh Sangpal
(25 - years)
Demonstrating the famous 'Adva Ghoda', an element in which the entire body is held in a position perpendicular to the Mallakhamb by both the hands!!! Immense amount of strength is required to do such elements. Santosh started doing Mallakhamb at the age of 20!!! and has excelled a lot since then.
I have been doing some research into Indian and Persian grappling and found this Mallakhamb. I had seen pictures of this before but never associated it with grappling. Has anyone seen one of these used outside of a Yoga class?

If you have any info or pictures post them up, I would like to see some old scetches of how they were being used and everything. Im setting up a new gym and it will be all old school weight training like dragging skids, climbing ropes, medicine balls and things of this nature, Im totaly burned out on free weights and airconed gyms.
HISTORY OF MALLAKHAMB
The origin of this ancient Indian sport can be traced to earlier part of the 12th century. A mention of wrestlers exercising on wooden poles is found in the Manasholas, written by Chalukya in 1153 A.D. It was revived late in the 19th century by Balambhatta Dada Deodhar, physical instructor to Bajirao Peshwa II, He took great efforts to popularize this sport. Resemblance of the shape of the Ancient and Modern Mallakhamb to the human structure can be easily seen. At first Mallakhamb was always concerned with Kusti, to learn different styles of Kusti. Now a days the game also includes Gymnastics. It is leaving ancient grips. The present game includes supple body, alert muscles and mind, concentration and expansion of the muscles, rhythm in breath, eyes wide open etc. Now a days at the competitive level the degree of difficulty is increasing day by day. The need of safety instruments is felt.
History [Birth Place of Mallkhamb] [Birth Place of Shri Balambhattdada]


MALLAKHAMB is not really an ancient sport.
Some researchers think that references of Mallakhamb are there even in the history of 12th century. Veda is a pure Indian ancient authentic references even followed today. "Manasolhas" & "Manusmruti" are the 2 authentic books still refereed by many scholars. According to both of them, Mallakhamb that according to these researchers, there termed, as "Mallastambha" is a part of one of the most advanced apparatus used to build up the physique.

But the fact is that "Mallastambha" was in fact the Metallic mainly Iron Pole or Stambha with the help of which Mallas (Wrestlers) used to exercise, some times even like weight training exercises were performed on Mallastambha!
The authority in Veda "" Dr. Aniruddha D. Joshi", confidently clarifies that 'Mallastambha and Mallakhamb are totally different sport". Apparatus. According to authentic references, the origin of Mallakhamb was somewhere in the beginning of 19th century. There was a beautiful story behind the origin of Mallakhamb...
Around 250 years ago when Indian soil was ruled by many different foreign intruders, there were few defenders, in form of Rulers who in their respective kingdoms not only protecting the rights of people but also protecting & developing the culture of them.

In Maharashtra, Peshwas were the rulers with Pune as their capital. Peshwas were having good developed juridical systems at the same time; they were encouraging various cultural activities & arts. Wrestling was one of the famous demonstrative arts of that time.

Many top class wrestlers throughout the country occasionally visit Pune to show their skills. Generally Peshwas had the top class players & hence there was hardly any time the Peshwa Darbar (Kingdome) lost in the fight.

On the eve of 17th century amongst the team of top class wrestlers was Sir Balambhatdada Deodhar. He was a very educated, scholar of Veda's at the same time a very strong amateur wrestler. On one occasion he had defeated an opponent who had given a challenge to their coach Sir Raghoba Vastad. From that time he was deputed to coach Peshwa himself or herself

During the same course of time, two top class wrestlers named Alli & Gulab" visited Pune after conquering the entire Hindustan. They put a challenge to Peshwa Darbar for wrestling. Both were heavily weighted & fully professionals. By looking at their physique & past performances, no body from the Peshwe Darbar stood up for the competition. When Sir Balambhatdada got this information, he rushed to Darbar & demanded the permission of Peshwas for the fight. Peshwa agreed to it.
As Sir Balambhatdada was not in a regular touch of Professional wrestling, he also requested some time for the fight. Then he went to a lonely & holy place near to Nashik district named Vani.

This is the famous holy place where goddess "Saptashrugi" was beautifully sculptured in stone. People believe that the goddess herself remained there inform of statue. At that holy & lonely Forrest place Sir Balambhatdada discovered the power of Mallastambha & he also by observing difficult maneuvers performed by Monkeys on trees, successfully introduced the same kind of exercises on the wooden pole. Thus Sir Balambhatdada not only discovered the New Instrument for body development, but also prepared the new system of training of course for wrestling.

After gaining lot of confidence & strength, Sir Balambhatdada returned to Pune & defeated the challenger Alli. Due to a very poor defeat of colleague, Gulab refuses to fight & thus Sir Balambhatdada became the outright winner.
Later on by personal experience & also by the experiences of his students, Sir Balambhatdada devoted his full life in spreading of this new sport apparatus throughout the country. The details of the spread up of the sport are provided in form of a chart.

Opponent / Partner. Latter on the game has diversified from wrestling to shine its own identity. Introduction of various acrobatic elements added more risk.
ORIGIN

In the Mallakhamb history, two places mentioned prominently are Saptashringi & Kothure. Saptashringi at Wani. Nashik is the birthplace of Mallakhamb & Kothure is the birthplace of founder of Mallakhamb SirBalambhattDada Deodhar....

Both these place, even today are very peaceful & really 'Untouched' by the perversed modernisation. It is really worth to visit them once in a life.
Mallakhamb
Mallakhamb is an ancient traditional Indian sport. 'Malla' means gymnast, and 'khamb' means pole. Thus, the name 'Mallakhamb' stands for 'a gymnast's pole'. The origin of Mallakhamb can be traced to the 12th century, where it is mentioned in Manas-Olhas - a classic by Chalukya in 1135 A.D. For seven centuries, the art lay dormant, till it was revived by Balambhatta Dada Deodhar, the sports and fitness instructor to Peshwa Bajirao II, who reigned during the first half of the 19th century. The apparently simple 'khamb' does not reveal the complexities of the exercises, which require the performer to turn, twist, stretch and balance on the pole. It is this consummate grace, this agility, dexterity and suppleness of body, combined with quick reflexes, muscle coordination and sense of timing, that single out this game as special. Of the states in India, more than 14 participate in Mallakhamb competitions at the national level.
At present, the following forms of Mallakhamb are prevalent:
Plain Mallakhamb - fixed on the ground
In this, a vertical wooden pole is fixed in the ground. The wood used is usually teakwood or
sheeshum
, preferred because of its twin characteristics of toughness and smoothness. The pole stands 225 cm above ground level. It has a circumference of 55 cm at its lower end, 45 cm in the middle, and 30 cm at the upper end. The height of the neck is 20 cm, and its circumference is 15 cm, and radius of the upper knobe is 13 cm.
Hanging Mallakhamb
A smaller version of the fixed Mallakhamb, it is suspended with the aid of hooks and chains. The swinging and revolving motion of this type of Mallakhamb renders the exercises quite difficult and exacting.
Cane or Rope Mallakhamb
Here, a cotton rope which is 2.5 cm thick, replaces the wooden pole. The performers are expected to strike various yogic poses, without knotting the rope in any way.
Revolving Bottle Mallakhamb
This is a recent innovation, and consists of 32 glass bottles placed on a wooden platform, with the Mallakhamb balanced on top.
The other forms of this sport include the Baseless Mallakhamb and Fixed Bottle Mallakhamb. Recently, a few more variations have been introduced,
viz
. Inclined and Suspended Mallakhamb.
Mallakhamb exercises make the body light and strong. These exercises are most beneficial for the stomach, back, arms and thighs, and have been found useful to achieve efficiency in a number of other games and sports like gymnastics and wrestling. The Mallakhamb sport affects the spinal chord most, which develops energy and increases longevity, and is the only exercise in which all big and small organs of the body are active.