I had a boxing match last saturday in Friedberg to celebrates Hispanic Heratige Month. But be honest I had serious doubts about my performance in the ring. I only started back Boxing training 2 weeks from the event. And my conditioning was SUCKING. I sparred our light heavyweight a couple of times and I was gassed by the third round. Sure I could beat him because I hit hard and a wee bit wiser but if we were same size and strenght he would have beaten me. So the Almighty was worried. I was stressing myself and pushing hard to get into fight shape.
Fight day we drove up early, as usual. Our coach feels the need to be the first team there so we can weight in and get all the medical stuff done. I was still worried and I know my coach as too. I had pushed myself hard but didn't know if it was enough.
Fast foward: I found out who my opponent was, he was from a German Boxing club from Hanau. Word was he slaughtered his last opponent. He was bigger than me and looked in good shape. So I REALLY got worried. I still had my normal calm face on. (I was walking around listening to ENYA!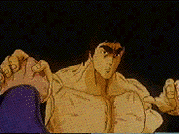 63.5 Successor of Hokutoshinken