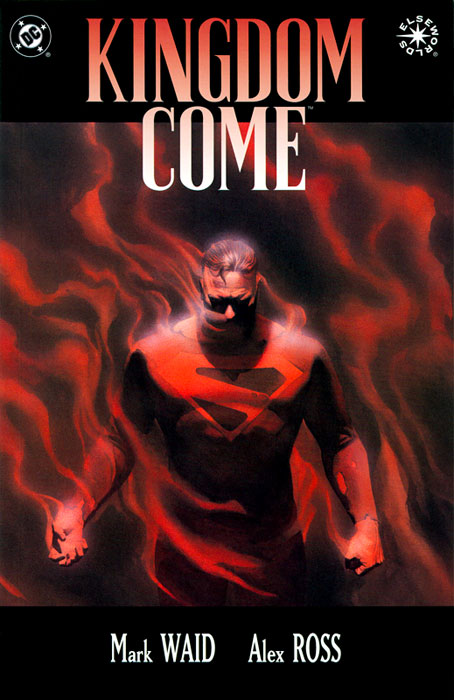 More nerdiness. Yes there is a anime/comic thread. No, I do not care.
In comics, back when I started reading, graphic novels were original stories of your favorite characters. Many were one of stories that had nothing to do with continuity. Sometimes, they were called trade paperbacks. Now, TPBs usually contain 5 to six issue collections, of one entire story arc, for an ongoing comic series. Sometimes the Graphic Novels are so acclaimed, they end up being put into actual comic continuity.
Also, there is another type of comic book called the Prestige Format. This term has basically fell out of use and highly argued. When I learned the term, it was for books that were printed on higher quality paper and were usually a 4-6 issue limited series.
In this thread, I will discuss some that I find worthy of checking out, even if you aren't into comics. All of these stories can be found in TPB or hardcover form. Sometimes, the Hardcover has extras like a DVD.
Obviously, Kingdom Come is first. This is an "ElseWorlds" story. Basically, this means it is a story that happens outside of DC's normal comic continuity. Originally it was a 4 issue Prestige format limited series published in 1996.
Kingdom Come takes place in the future of the DC Universe where Superman has quit being a hero. There is an event that causes people to think Superman's morality is outdated. He becomes a recluse and lives on his long dead parents farm. He only comes back, to imprison all of the super criminals of the world, when a catastrophic event happens that cause him to become judge and jury.
What makes it interesting is the future take on all of the heroes you know and many you don't. I wasn't into DC, I actually only knew the Super Friends. So, this is a very non-nerdy and accessible book for new readers. You just need to know the basics of Superman, Wonder Woman, and Batman. Yes, even if it is from the TV shows, movies and the recent JLA cartoons. Even if you don't, there is beautiful artwork by Alex Ross. That is what made me by the books in the first place.
Now this was so well received that DC decided to make a sequel which Suuuuuuuuuucked. Ignore it do not buy. It was terrible. So, you would know how terrible it sounded when they announced a continuity jump, into the regular DC Universe, over 10 years later. It worked, but it is to nerdy to recommend. Unlike Kingdom Come, Thy Kingdom Come is actually an in continuity story in the Justice Society of America.