Mushrooms in Japan
One thing that I recently began to appreciate more about Japanese cuisine is the long list of mushrooms found in many of the dishes served on a regular basis. More than just the ubiquitous portabello mushrooms found in most grocery stores in America, Japanese grocers often stock several different kinds of mushrooms. These vary in flavor and texture and are often grown locally in connection to the season. I have no idea what these would be called in English, but many of the names are as is.
Shitake: Probably the most well known Japanese mushroom, which accompanies soups and meats in the usual manner. These are even sold in the US in many grocery stores next to the portabellos. Home growing these has been a popular custom for a long time. They even sell cultivation supplies in most hardware stores during the winter and you can often see the logs growing mushroom crops in nearby forests. Health-wise, these have been implicated in immune modulation and improved resistance to pathogens, like influenza. More so, some of the first statin cholesterol reducing agents were isolated from mushrooms like these. These compounds, such a lovastatin and mevastatin, are inhibitors of the enzyme HMG-CoA reductase, which in effect block the synthesis of cholesterol. These have become billion dollar drugs for the pharmaceutical industry and are used to treat heart disease and hyperlipidemia.
Matsutake: are one of the most prized mushrooms in Japan. These are so sought after that the best of the Japanese production can go for 2000$/Kg and they are one of the few remaining trade commodities left with North Korea since the recent economic embargoes. It is said that before their cultivation was figured out, natural growth spots were carefully guarded family secrets worth killing for. This mushroom has a festival associated with its production in Aichi prefecture. In one of the major production towns, they set up a street-long hibachi grill where you can grill your own matsutake. These kind of have a richer flavor than shitake and more of that wonderful 'overturned earth' smell associated with them. They are also considered a medicinal tonic for a variety of ailments, which may yet be shown to have actual merit.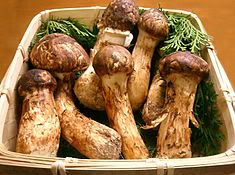 Maitake: These mushrooms are often found in soups or grilled as is. They are pale grey with dark line edges at the ends and resemble an handful of crumpled up newspapers. Tokyo University has had a lot of research grants go towards elucidating the contents of Japanese mushrooms and these are no exception, as they have been noted for some of the same immune modulative abilities as shitake (etc).
Enoki: These are thin white and stringy mushrooms found in many kinds of soup. They are a common ingredient in miso soups and nabe-style dishes. They are also found in many side dishes accompanying fish and other vegetables.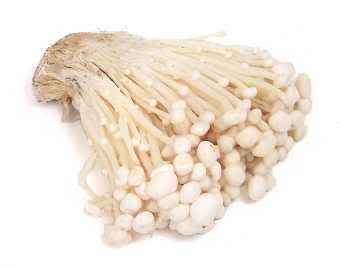 Eringi: these mushrooms are pale grey with a brown cap, somewhat resembling a super mario tower mushroom. These are found in soups, grilled, cooked in oil or eaten along with yakiniku style barbeque. These kind are my favorites. The meaty, rubbery texture and interesting odor make then a great compliment to meat and soup. More mass also means fuller stomach.
Reishi: Not just for food, but Asian culture has long recognized the medicinal application of these mushrooms. Reishi with humorous hyperbolic names such as: 'supernatural mushroom', 'ten thousand year mushroom' and 'immortality mushroom' is not to be taken lightly. These have been used in TCM for thousands of years and were one of the main ingredients in ancient Daoist immortality potions. Much like the above, these shrooms contain a long list of beneficial compounds and have been implicated in early studies to have antitumor, immunotherapeutic, antiviral and cholesterol reducing properties. TCM proponents have long advertised that one of its benefits is a lack of side effects, which time will tell what secrets these bad boys contain. Though expensive, extracts are very bitter and usually prepared as tea or mixed with other things to denude its bitterness. Extracts are sometimes also sold in pill form, as well.