Before 1900 there were only 3 known chemical remedies that had specific curative properties: Mercury (for the treatment of
syphilis
),
ipecacuanha
(for dysentery) and
cinchona bark
Paul Ehrlich
gram negative/positive bacteria
for example). He reasoned that the dyes stain by chemical reaction with
specific elements common
Trypan Red 1
, which was the first drug to show activity against trypanosomal infections in mice. Later in 1906, he deduced the true chemical structure of the chemical
Atoxyl
, a slighty less toxic arsenic containing compound (when compared to arsenic). This led to the co-discovery (with Sahachiro Hata) of
salvarsan
Gerhard Domagk
found that a dye called
prontosil
was effective against streptococcal infections. His research was proven further when his young daughter was infected from a pinprick and he gave her an oral dose of the dye. The dye saved her arm from amputation and probably her life too. On a side note, he was awarded the Nobel Prize for his research, but was unable to accept it until after the war due to German law at the time and was also arrested by the ungrateful gestapo. Prontosil later became the first antibacterial drug and the first widely available sulfa drug. In 1936, Ernest Fourneau showed that protosil breaks down into the chemical
sulfanilamide
and was the active ingredient in the drug.
These drugs work by competitively inhibiting an enzyme called dihyrdopteroate synthetase, which converts the chemical
p-aminobenzoic acid (PABA)
into folic acid. The structures of the sulfa drugs and PABA are very similar, which accounts for their efficacy at that particular enzyme. Folate is necessary for the production of B vitamins, DNA synthesis and other growth functions. While both humans and bacteria need this chemical, humans can obtain it through dietary sources. Thus, bacteria are more adversely affected by these drugs than human cells.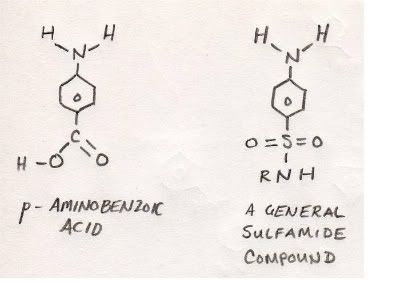 Cheap and easy to produce, the sulfanilamide structure was the basis of several thousand attempts to make even more effective drugs and gave birth to the class of chemicals known as
sulfa drugs
. Drugs such as
Sulfapyridine
(effective against pneumonia),
Sulfacetamide
(urinary tract infections) and
Sulfathiazole
saved thousands of lives and changed medicine forever. Though widely displaced by the discovery of penicillin, today they still find a wide variety of uses against antibiotic resistant bacteria, urinary tract infections and acne among other things.
Notice (No, not my handwriting) that sulfanilamide structure is only changed by adding a different functional group to the SO2NH2 group. It was found that the most successful chemicals were usually ones that replaced the hydrogen atom with a heterocyclic ring of some kind.
Aniline, Acetic anhydride, liquid ammonia, sodium carbonate, chlorosulfonic acid, hydrochloric acid, sulfuric acid, CaCl2, decolorizing charcoal, a hefty amount of distilled H2O, filter paper, a Buchner style suction funnel, an accurate scale, and the usual assortment of general chemistry lab doo dads (spatulas and rubber policemen, etc).
Sulfuric acid is produced by the ton in the US, with about 40 million tons produced annually.
Be picky when, picking.
A three neck round bottom flask, Vigreux, Snyder, Graham, and Liebig columns, and a drop funnel.
Jabir Ibn Hayyan
, who was one of the first to distill nitric acid, did a lot of his work on a
sand bath
C6H5NHCOCH3 + ClSO2OH → ClSO2(C6H5)NHCOCH3
The chemical formula for acetanilide is 135 g/mol and the ratio of it to p-acetamido benzene sulfonylchloride is 1 to 1. This means that for every mole we use of acetanilide we should expect a molar equivalent of the p-acetamido product. Likewise from another perspective: for every 135 grams of acetanilide we use, we should expect 233.5 grams of p-acetamido product to be produced. This, however, describes only the
theoretical yield
Real Computer generated estimation of damage caused by acid burns.
no glove
Karen Wetterhahn
and
The work up:
1. C6H5NH2 + (CH3CO)2O → C6H5NHCOCH3 + CH3COOH
2. C6H5NHCOCH3 + ClSO2OH → ClSO2(C6H5)NHCOCH3
3. ClSO2(C6H5)NHCOCH3 + NH3 (liq.) → NH2SO2(C6H5)NHCOCH3
4. NH2SO2(C6H5)NHCOCH3 →H2O/HCl→ NH2SO2(C6H5)NH2 + CH3COOH
Looking at the reactions the first step is to acylate your aniline. This is done first to limit the reactivity of the amine group on the benzene ring. Aniline itself is much too reactive by itself and often yields poly-reacted compounds. By acylating first with acetic anhydride, you bypass this problem and are left with a less powerful ortho/para director to control the placement of the next addition to the ring. The acylated product is collected by filtration, cleaned and then used in the next step: chloro-sulfonation. Here the previous product is heated and refluxed with chloro sulfonic acid. This yields the desired sulfonated product at the para position which will be isolated, cleaned and reused in the next step. This attaches a specific amino group to the sulfonic acid portion of the compound. I mentioned earlier that there were many attempts to make these kinds of compounds. This stage in the synthesis of these typically differs only by what amine is chosen for the addition (producing other kinds of amines is a story for another day). However, this time we are using the simplest amine available: ammonia. The final step requires a typical hydrolysis reaction of the acetate blocking group. The product from this reaction is crystallized, cleaned with fresh solvent and recrystallized several times to remove impurities. This can be done with either water or alcohol, where alcohol might give slightly better results. The purity of the product is tested by checking its melting point, which for pure compound is 165C. This can be done by the usual methods.
Next time:
"Hey Meathead! Go Make Your Own Methandrostenolone!"
Or
"Methaqualone: Some Things are Better Left Unsaid."